On 23rd August 2021, Bradford District and Craven hosted the local launch of the West Yorkshire and Harrogate Health and Care Partnership anti-racism campaign, Root Out Racism. The campaign is part of an ongoing commitment to tackling structural and institutionalised racism, as well as addressing health and social inequalities across the area.
Staff from the Race Equality Network in Bradford have been working alongside West Yorkshire and Harrogate Health Care Partnership and representatives from Bradford Council, Bradford Teaching Hospital Foundation Trust, VCS and local authorities to co-design the content and messages for the campaign since April 2021.
What does Root Out Racism mean?
The concept behind the movement is not a new one but continues to be crucial; it reminds us that racism has deep-set roots in all aspects of society, and any attempt to tackle racism must acknowledge this. It reminds us that racism is more than what you can see, such as overt acts of violence or discrimination, and includes structural inequalities and unconscious bias that are often overlooked or dismissed. We hope that, as always, the more people involved in the movement the more impact it will have and the bigger the change.
The movement has been launched across West Yorkshire this week, but this launch is just the beginning – individuals, organisations, and leaders are now committed through their pledges to continue and sustain a zero-tolerance of racism and active anti-racism in all that they do.
Bradford Local Launch
The local launch took place 1-3pm on Monday 23rd August 2021 in Centenary Square, Bradford. The event had a marketplace layout, with 10 local organisations holding stalls, an igloo of children's activities and art workshops, plus several musicians, performers and speakers.
Stalls included:
Race Equality Network
Bradford Community Champions Project
Bradford Hate Crime Alliance and West Yorkshire Police
Free2Be Me
CABAD
Connecting Roma
CNET
Bradford for Everyone
HALE Project
Hope Not Hate
There were also fantastic performances from JU:MP Dance for Life group, spoken word artist Haris, artist-writer-musician Masumba, Paddle Board entertainer Bobak Champion and traditional Libyan musician Ezzedin. A volunteer from Bradford Hate Crime Alliance, Elliot, also spoke on the subject of tackling institutional racism and inequality across education, employment and access to services.
Plants were distributed to stall holders and visitors to the events, along with packets of wildflower seeds with the #WYHRootOutRacism logo and message on. The plants symbolised the positive action, equality and unity that must replace the rooted-out racism in this society, and were provided by Northcliffe Environmental Enterprises Team (NEET) in Shipley. We're very grateful for NEET for bringing this event to life (literally).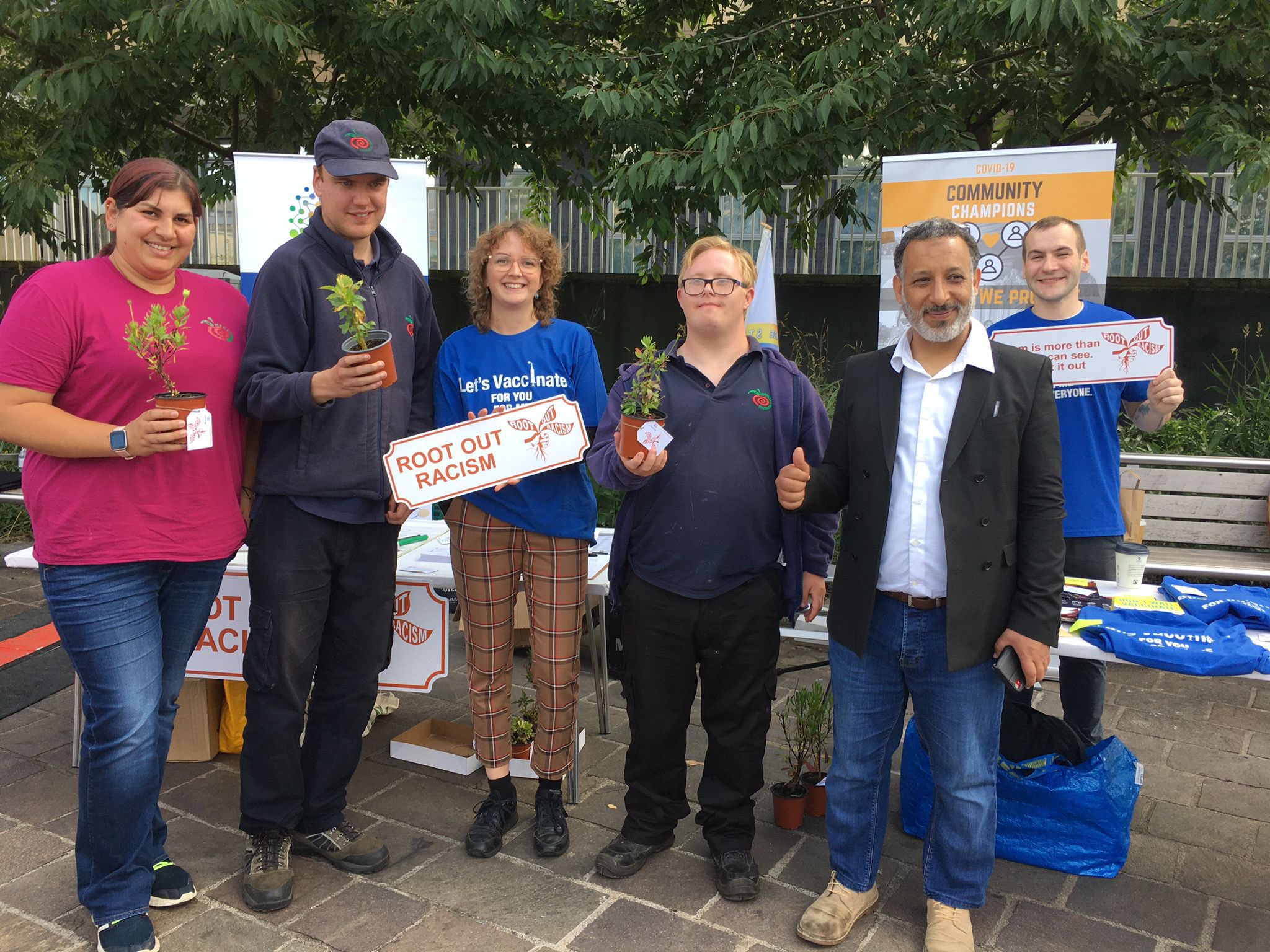 Let's talk
At the REN stall we provided an opportunity for people to share their experiences of racism and unequal treatment, as well as facilitating discussions on what active anti-racism and allyship look like in practice. We were able to offer guidance to a variety of organisations on what they can do to ensure their services are accessible to all communities and that their recruitment processes are not exclusionary.
Our Community Champions stall also provided a platform to talk to many people about the COVID-19 vaccine roll out, with which there are many inequalities associated. It was valuable to hear people speak openly and without judgement about their thoughts on vaccination and COVID-19, and provide advice and information where needed and wanted. It was also fantastic to fill Centenary Square with our blue Let's Vaccinate! t-shirts – spreading the message of For me, For you, For everyone! (If you didn't get yours on the day – please get in touch at info@raceequalitynetwork.org.uk)
You can also find out more about how to get vaccinated here: www.bradfordcravenccg.nhs.uk/covid-19-vaccine-resources/
A pledge for the future
A highlight of the event was the hugely impactful Root Out Racism banner that was hung in the square for all to see. More importantly than being a fantastic photo opportunity, this banner encouraged attendees of the event to sign their name as a pledge of their commitment to anti-racism in their daily lives and the environment they exist in. Leaders, influential figures, community members and volunteers all signed the banner.
Monday's launch acts as a springboard for events and actions to come; during Race Equality Week 2021 (1st – 7th Feb) we worked with our Board members and Project partners to discuss the themes of Accountability and Transparency. These are themes which the Race Equality Network will be continuing to align with during Inclusion Week (27th September – 3rd October) and our work in the coming months and beyond.
If you couldn't attend the launch on Monday, please don't worry. You can see lots of coverage on Twitter under the hashtag #WYHRootOutRacism – where you can also share your thoughts.
'Root out Racism' campaign launched with major event in City Park | Bradford Telegraph and Argus (thetelegraphandargus.co.uk)
Launch of 'Root out Racism' campaign | Craven Herald
You can also register your support for the campaign and receive the media communications pack here: https://tinyurl.com/rootoutracism
Together we can Root Out Racism.